Blog
My mood is wandering between trips, writing, and pictures. Meet me on the crossroads where words and colours intersect. Welcome in my blog !
25 May 2018
I will be there on sunday only from 2 pm to 6 pm.
Free entrance.
Welcome !
Published in Expositions
23 January 2018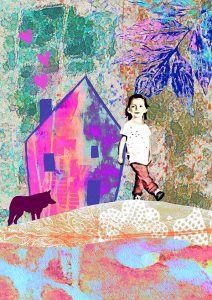 Published in Illustrations - Peinture - Photo - Mixed Media
17 January 2018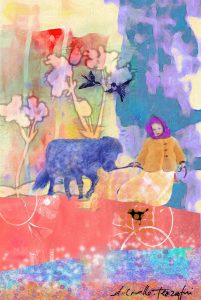 Published in Illustrations - Peinture - Photo - Mixed Media
5 January 2018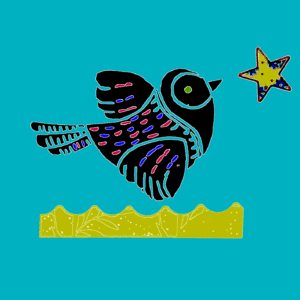 Published in Illustrations - Peinture - Photo - Mixed Media, Non classé
18 December 2017
https://www.schmincke.de/en/profi-tipps/article/mixed-media-collage-with-aqua-linoldruck-and-aero-color-professional.html
You will need :
4 pieces of paper in different sizes, hand-printed with linoprint colours (brayed with a roller on a gelatin plate and marked with stencils or found objects)
Schmincke aqua LINOPRINT colours of your choice and ivory black (19735)
Schmincke AERO COLOR® Professional Black (28702) and one colour of your choice, here Cadmium orange tone (28204)
Schmincke AERO COLOR® Professional liner n°1
Thin string
Scrap of tarlatan and handwritten paper
Cutting and tracing material (mat, ruler, scissors, cutter knife, pencil, tracing paper, blotting paper)
Paper glue
A4 drawing paper
Stamp with alphabet letters
Step 1 and 2:
Take the biggest of your prepared hand printed papers and position it onto the drawing paper. Make some marks with a pencil to remember the best place and glue it onto the paper. Transfer your design using tracing paper and a pencil.
Step 3 and 4:
Fill up the AERO COLOR® Professional liner with AERO COLOR® Professional black. Shake it well and use it on a scrap of paper until you get a perfect line. Then use it to trace the design and doodle it. Dye the scrap of tarlatan with AERO COLOR® Professional ink (here Cadmium orange tone) and let it dry.
Step 5 and 6:
Glue the different papers slightly on top of each other starting on the right side of the design. Glue the piece of tarlatan on top of the papers.
Step 7 and 8:
Using a gelatin plate, a brayer and aqua LINOPRINT Ivory black, dye the string until it is completely black. Carefully lay the string onto the right side of the design making loops. Then press it onto the ground with a piece of blotting paper.
Step 9 and 10:
Take off the string carefully and let the print dry thoroughly. Ink the stamp with black aqua Linoprint colour and print the words " in love ".
Published in Illustrations - Peinture - Photo - Mixed Media, On en parle ! Presse - Web - TV
20 November 2017
LA MIA AGENDA WICCA 2018
  Autore: DENISE CROLLETERZAGHI
  EAN: 9788834431870
 Pagine: 112
 Prezzo: € 11,48
Anteprima 1
Una splendida agenda di medio formato piena di ricette insolite, pozioni magiche, piante, talismani e amuleti offrirà ai lettori un anno ammaliante! Agenda Wicca 2018 è allo stesso tempo pratica e conveniente!… Con le sue dimensioni medie, può scivolare agevolmente in una borsa ed è appositamente studiata per organizzare programmi settimanali. Ogni doppia pagina riporta lo sviluppo della settimana, con tutte le informazioni utili: feste da celebrare, alba e tramonto, le fasi lunari e lo spazio per annotare i propri appuntamenti. Ogni settimana, inoltre, riporta una pianta e una ricetta magica, consigli, trucchi per le streghe e una massima di saggezza per trascorrere un indimenticabile 2018.
Il Gruppo Editoriale Armenia, già Armenia Editore, fondato da Giovanni Armenia nel 1972, è tra le prime case editrici nel panorama editoriale italiano ad aver contribuito alla diffusione e allo studio di tutti quei fenomeni occulti che sfuggono alla realtà scientifica, ma che da sempre suscitano la curiosità dell'uomo, che vi cerca e vi ha cercato una risposta ai grandi ed eterni interrogativi che lo assillano.
Le ipotesi, le spiegazioni, gli approfondimenti sono affidati ai tanti volumi pubblicati: la collana «Biblioteca di Astrologia» offre, ad esempio, gli strumenti per decifrare le influenze delle stelle, mentre «L'uomo e l'ignoto» affronta i grandi misteri del paranormale.
Non mancano poi pubblicazioni sui diversi metodi di divinazione, dai tarocchi alla chiromanzia, sull'angelologia e sulla spiritualità in generale, il tutto proposto con un linguaggio rigoroso e divulgativo. Riguardo alle creature di luce, in particolare, la collana «Sotto le ali degli angeli» ha dato spazio ad autori come Doreen Virtue, Alexa Kriele, Anna Fermi e Kimberley Marooney, che hanno incontrato un lusinghiero successo di pubblico.
Il Gruppo Editoriale Armenia si è distinto anche per la tempestività e la spinta innovatrice delle proprie iniziative, facendosi portavoce, ancora una volta tra i primi nel nostro paese, del pensiero positivo e più in generale dei vari filoni letterari legati alla New Age. La casa editrice è stata la prima a portare in Italia gli autori Louise L. Hay ed Eckhart Tolle e il fondamentale Corso in Miracoli. È così che ha visto la luce una ricca messe di testi sulla medicina alternativa, sulle tecniche di autoguarigione, sulla visualizzazione creativa e sulla meditazione, con l'obiettivo specifico di fornire un approccio globale alla cura e al benessere del corpo, della mente e dello spirito.
Tra le pubblicazioni del Gruppo Editoriale Armenia figura anche una nutrita serie di romanzi fantasy. La casa editrice ha saputo raccogliere via via le simpatie di un pubblico vasto quanto variegato proponendo cicli fondanti quali Le Cronache e La Trilogia degli Elfi Scuri, rispettivamente parte integrante dei marchi Dragonlance e Forgotten Realms. Autori come Margaret Weis, Tracy Hickman, R.A. Salvatore e Steven Erikson con la saga epica La Caduta di Malazan, o autori del calibro di Bernhard Hennen, che con Gli Elfi si è consolidato come esponente di spicco della nouvelle vague del fantasy europeo, sono giustamente assurti alla notorietà anche in Italia grazie proprio alle coraggiose iniziative editoriali della casa editrice.
A partire da gennaio 2015 il Gruppo Editoriale Armenia, diventato ora Armenia srl, è stato acquisito da Il Castello Editore e Rusconi Libri e continuerà la sua produzione seguendo la sua identità storica di casa editrice esoterica.
Published in Édition-Parution livres